ANU Life
ANU STUDENT'S SERVICE

Food
Korean food cafeteria

1st floor of Student Association Building
1st floor of Museum
1st floor of Bokjigwan

Western food cafeteria
Sky-lounge(Western food cafeteria)

Medical Care
ANU Medical Clinic

1st floor of Bokjigwan (welfare building)

Banking & Postal Services
Bank

open account, deposit, exchange, remittance, ATM, etc.

Post Office

postal services, banking service, parcel delivery service, EMS, etc.
Transportation

From Seoul to Andong (3 hours by bus)
East Seoul Express Bus Station ↔ Andong Bus Station / 08:00 ~ 20:00 (every 30 min.)
Seoul Gangnam Express Bus Station ↔ Andong Bus Station / 08:00 ~ 20:00 (every 1 hour)
Andong Bus Station ↔ Andong National University - 8Km distance from Andong Station to Yeongduk direction
Urban bus No. 11 / 06:30 ~ 22:00 (every 20 min.)
About Andong
Historically, many literary men and scholars were produced in Andong including the three great people who opened the Goryeo Dynasty. Andong is a place for the respect of study and courtesy, where the noblemen, the so-called Seonbi and Yangban, led their lives at the center of Confucian culture. Two hundred and forty seven ancestors from Andong were involved in the independence movement, including Sang-yong Lee, Dong-san Kim, and Yuk-sa Lee. Andong people led the activities by the army in the cause of justice and they played key roles with their faithfulness and loyalty to overcome the national ordeals in the history of Korea. Andong is also a place of culture and education.

In terms of culture, a variety of cultures have been flourishing in Andong, such as shamanism (Mireuk statue, sorceress), Buddhism (temples, pagodas), Confucianism (structures, transcripts, seowons). The breath and spirit of the traditional culture permeates through Andong area. There are 2 Confucian temples, 45 seowons and seodangs (local schools), and 300 pavilions that preserve Confucian culture, making Andong the Home of Confucian culture. Moreover, Queen Elizabeth II visited Andong on April 21, 1999 to enjoy the most traditional place in Korea.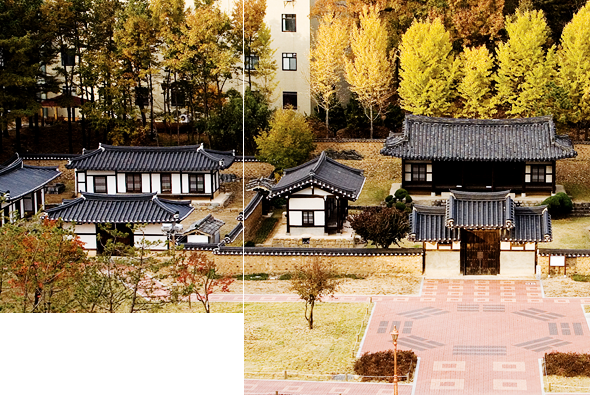 In terms of location, Andong is the center of the northern part of Gyeongbuk Province regarding to the administration, education, culture, and transportation. The emotion of Andong citizens inherits the spirit of the Seonbi and they respect courtesy and justice. They are a little conservative and what they value the most is loyalty to their country and parents.

In addition, the clean and beautiful environment and the cultural heritage that surrounds Andong, are leading the new era of the 21st century as a new environmental age. Andong is becoming a culture and tourist city for the next generation.
1. Bongjeongsa
(Taejang-ri Seohu-myeon, Andong)
Time of establishment : Shilla Dynasty King Munmu 12th year (in 672)
Features: There is the oldest wooden building in Korea: the Geokrakjeon, National Treasure No. 15.
2. Shinsedong 7-storied Jeontap
(Shinse-dong, Andong)
Time of establishment : 8th century in the United Shilla era
Features: The biggest and oldest Jeontap in Korea (National Treasure No. 16)
3. Hahoe Village
(Hahoe-ri Pungcheon-myeon, Andong)
Time of establishment : in the early Gyryeo Dynasty
Features: Most traditional village in Korea (Important Folk Material No. 122)
4. Icheon-dong Stone Buddha
(Icheon-dong, Andong)
Time of establishment : Gyryeo Dynasty
Features: Representative work that shows the folk religion for the Mireuk Buddha (Treasure No. 115)
5. Dosan Seowon
(Toegye-ri Dosan-myeon, Andong)
Time of establishment : Choseon Dynasty King Seonjo 7th year (in 574)
Features: The Home of Confucian education in the Yeongnam area (Historical Remains No. 170)
Culture of Andong
Chajeon-nori (Important Intangible Cultural Property No. 24)

A play that commemorates the victory of the war

Hahoe Byeolshin-gut Tal-nori (Important Intangible Cultural Property No. 69)

The oldest Korean mask dance as a play representing the Seonbi at the Hahoe Village

Notdari balpgi (Intangible Cultural Property No. 7)

The women's folklore play held on the fifteenth day of January, according to the lunar calendar, in the Andong area

Jajeon-nong-dongyo (Intangible Cultural Property No. 2)

A special folklore song transmitted by word of mouth in the Andong area to relieve the fatigue of farming and to promote the effectiveness of the work
Historical figures of Andong
Yeokdong U, tak (1263-1342)

Civil minister and Confucian scholar in the late Goryeo Dynasty

Toegye Lee, Hwang (1501-1570)

Civil minister in the Choseon Dynasty, master of the Seongrihak

Seoae Ryo, Seong-ryong (1542-1607)

Civil minister and scholar in the mid Choseon Dynasty

Ilsong Kim, Dong-sam (1878-1937)

Independence movement participant, scholar of Chinese study

Seokju Lee, Sang-yong (1858-1932)

Independence movement participant, first Prime Minister of the Sanghae Provisional Government

Yuksa Lee, Won-rok (1904-1944)

Independence movement participant, representative resistance poet of Korea